Aim: To maintain simple shelters in remote country for the use and benefit of all who love wild and lonely places.
The Bothy Code:
Respect other users
Leave the bothy clean and tidy for the next users, if possible also leave dry material for lighting a fire.
Donít crowd the bothy out in situations of high usage; be prepared to camp, especially when in a group or when using a popular bothy like Culra.
Respect the bothy
Please sweep out the parts of the bothy that you have used, clean work and table tops, and leave the bothy in a clean and tidy condition for the next person to use.
Guard against fire risk when using both your cooker and the bothy stove and fireplace. Make sure that fires are completely out when you leave the bothy.
Donít cause graffiti or vandalism.
Take out all rubbish that is not burnable (especially tins and bottles).
Donít leave perishable food behind which will rot or attract vermin.
Respect the environment
Keep the surrounding areas clean and tidy, and use the spade provided when you go to the toilet up the hill.
Fuel is not provided Ė you must bring your own. Never cut live wood for use in the bothy. Conserve fuel: if you bring your own, always leave a small supply for someone who, in an emergency, may need it more than you.
The bothies maintained by the MBA are available through the kindness and generosity of the local landowner. In order to ensure the continued good relationship with the owner of the Ben Alder Estate, it is important that the cleanliness and condition of the bothy is maintained by all who use it.
We therefore kindly ask that all rubbish is taken out when you leave.
Please note
Please seek the ownerís permission if you plan to take a group to the bothy or to use it for more than a few days.
Please contact Ian Crichton, Head Stalker, Ben Alder Estate, tel: 01540 672000.
PLEASE observe any restrictions on the use of the bothy, for example, during the stag-stalking season. Contact Ian Crichton for details.
Please note also that bothies are used entirely at your own risk.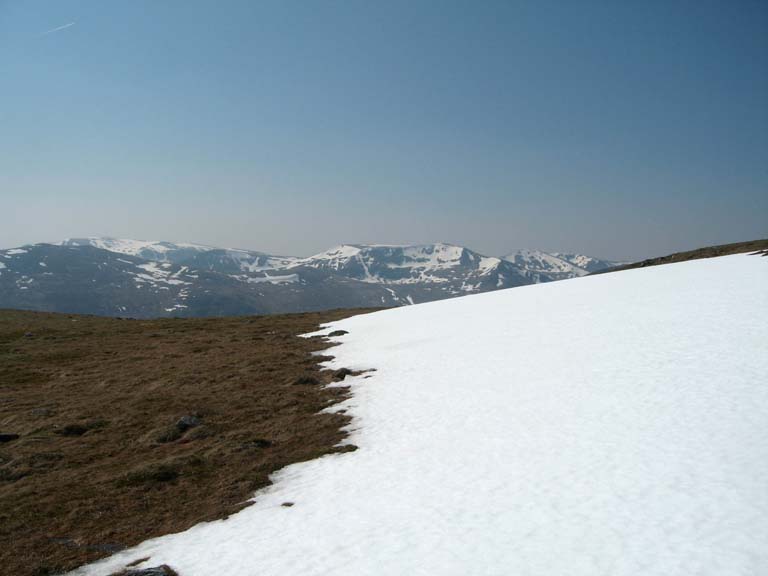 The Grey Corries from Geal Charn above Loch Pattack
Return to the main section of the Culra Bothy home page