The design of the jacks and dampers
Click on the images on the left-hand side of this frame for more information
Jack Design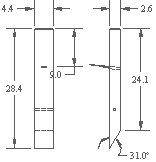 The jacks, like virtually all other aspects of these instruments, are hand made. The woods used for the jack bodies is either pear or service and the tongues are of beech. The instruments are not supplied with jacks made using the plastic injection process nor are they from an outside commercial supplier. Making the jacks ourselves, we have found, is the only way in which we can ensure that the jacks and tongues meet our requirements and are based on historical practice.
For further details about the jack design and drawing click on the images on the left-hand side of this frame.
Two aspects of jack design that were given especially careful consideration were the angle of the quill, and the cutting of the dampers. These are both discussed below.
Quill angle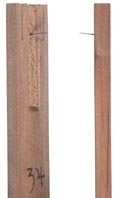 Normally the tongue of the jack leans back slightly and the quill slot is punched so that the quill angles upwards. Click on the image at the left for further information about the importance of the angling of the quill above the horizontal.
Click on the image at the left for more details
Dampers with sloping edges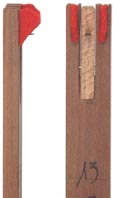 Most text books on harpsichord construction show dampers with horizontal lower edges. But in fact surviving dampers on historical instruments are practically never cut this way (there are exceptions that I won't enumerate here - click on the image at the left for further details), and the jacks themselves are made specifically for dampers which are cut at a sharp angle to the horizontal so that the damper comes into contact with the string at an angle. Click on the image to the left for more information.
Click on the image at the left for more details
Go back to the main page of this section